February 16th, World Syrah Day
February 16th is World Syrah Day, celebrating a variety that is famous throughout the world. It is the most widely planted variety in Australia, where it is known as Shiraz, as well as the grape that has made France's Rhone region famous, thanks to the great wines that are made with it.
Let's find out a bit more about this variety. Syrah wines are beautifully coloured, flavoursome, powerful and so versatile that everyone likes them. At Decántalo we have a wide variety of Syrah wines, with coupages and single-variety wines in all different styles and from different places, that you can open to continue celebrating this international grape any day of the year.
Syrah, a legendary grape
This grape is said to have originated in Shiraz, an ancient city in Iran that was the capital of Persia and from there, it was taken to the Rhone in France. But apparently this is just one of the various stories about the variety's origin. Some think it was taken to Syracuse, Sicily by the Romans or that the Phoenicians took it to their colonies in Marseille and that from there it spread to the Rhone, which was never conquered by Phoenicia. But this is another story without much evidence and it does not explain how the Syrah variety then disappeared from Marseille.
Where do we find Syrah?
Syrah wines can be found in France, particularly in the Rhône, where Syrah is the main variety and is used to make the extraordinary reds of Crozes-Hermitage and Côte-Rôtie, which are some of the most sought after and appreciated in the world. This grape also grows in Spain, Portugal and Italy and in the New World, Syrah is grown mainly in Australia where, as we have already mentioned, it is called Shiraz. It can also be found in the United States, Argentina, Chile, South Africa and New Zealand.
What kind of wine does it produce?
Wines made with this variety always have an intense and beautiful colour but have different characteristics depending on where they are made. For example, French Syrah wines often have aromas of olives, and Australian wines made from this variety have hints of blackberries and sweet tobacco.
Wines made with Syrah grown in a cooler climate, like the Rhone region, Washington, Sonoma and Chile, are full of flavour and tend to have a lighter colour, lower alcohol content and aromas with notes of olives, blueberry pie, plums, tobacco, and herbs. However, wines made with Syrah grown in more temperate climates have a higher alcohol content and aromas of blueberries, blackberries, cloves, pepper, cocoa, mint, liquorice and sweet tobacco. Syrah wines generally have a floral note of violets.
To commemorate World Syrah Day in style, we are recommending six wines that will help you compare the styles and qualities of this international variety that has captivated the entire world.
6 Syrah wines to celebrate the day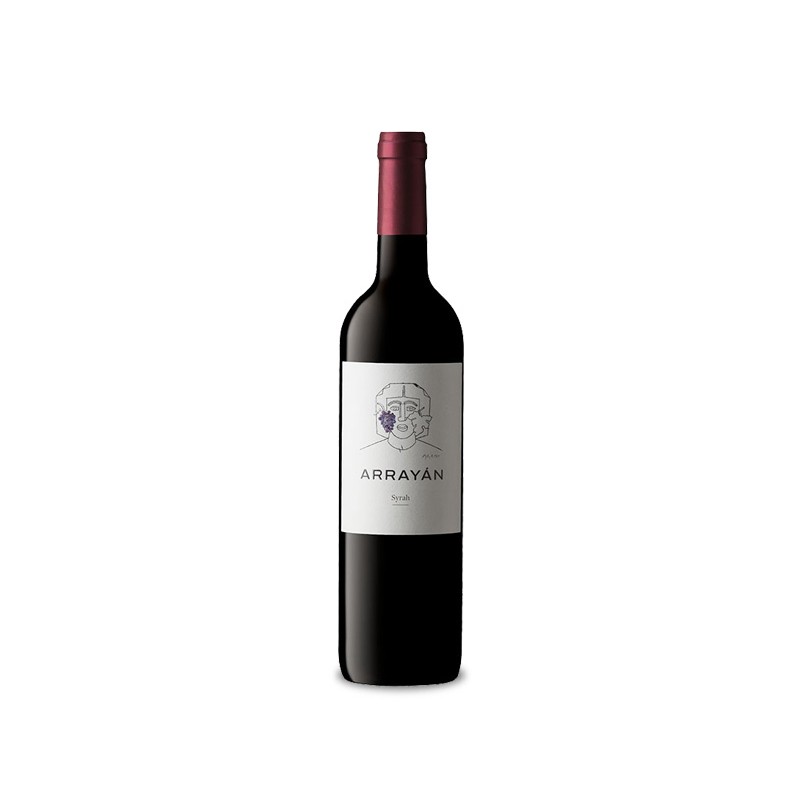 Arrayán Syrah is a perfect red introduction Syrah wines. This is a single-variety wine with the full typicity of the grape that reveals floral and spicy aromas and also gives us a first-hand insight into the best kept secrets of the D.O. Méntrida which, despite not being one of the most fashionable wine regions in the world, gives us the chance to discover wines like Arrayán Syrah that are worth much more than they cost.
South Africa is a country with a significant wine industry and much to talk about. This Porcupine Ridge Shiraz wine is proof of that. This is a 100 % Syrah, a variety that does extremely well and offers its best qualities when grown in this area. A juicy and velvety red, made in the Rhône style, with notes of violets and pepper that are very characteristic of this variety.
If you want to try an unmasked Syrah, we would recommend MicroBio Sietejuntos Syrah, made by Ismael Gozalo, a true master in the art of authenticity and a craftsman of oenology in Nieva, Segovia. Sietejuntos is a natural wine made as part of a tribute to the origins of MicroBio Wines. This is a small but interesting production of a single-variety Syrah red that will likely surprise you.
In a list of recommended Syrah wines, we could not ignore the wines of the Rhône, where you will find hundreds of wines in different styles, coupages and prices to suit you, but this time we have chosen the jewel in the crown, the M. Chapoutier Hermitage L'Ermite Rouge 2015, a fruity, elegant, velvety and mature wine. An excellent Syrah wine that has been awarded 100 Parker Points.
The perfect way to enjoy Syrah when the weather is good is in rosé form. The El Grillo y la Luna winery has made a fruity and flavoursome single-variety wine. 12 Lunas Rosado is made through the bleeding method with the Syrah grape and is aged on its lees for 4 months, making it a silky, full-bodied, long and intense wine. This is a very versatile rosé that is the perfect way to liven up any occasion.
If bubbles are your thing, try this sparkling version of the Syrah variety. A sparkling wine with a beautiful colour that showcases its full varietal power in the glass without any gimmicks. A long-aged and naturally-produced sparkling wine that also reflects the elegant mineral character of the Garraf Massif, Catalonia. A journey of discovery!
Now you know about a selection of Syrah wines, why not give them a try?
Original image from Wikimedia Commons. "Syrah grapes at Hahn vineyard"