Rioja vs. Ribera del Duero, a battle between two greats
When we talk about Spanish wines, the names Rioja and Ribera del Duero immediately come to mind. They are, without a doubt, the two leading regions that are benchmarks for Spanish wines around the world. However, although both have an exceptionally prestigious reputation for their red wines, the truth is that each of them has a unique personality.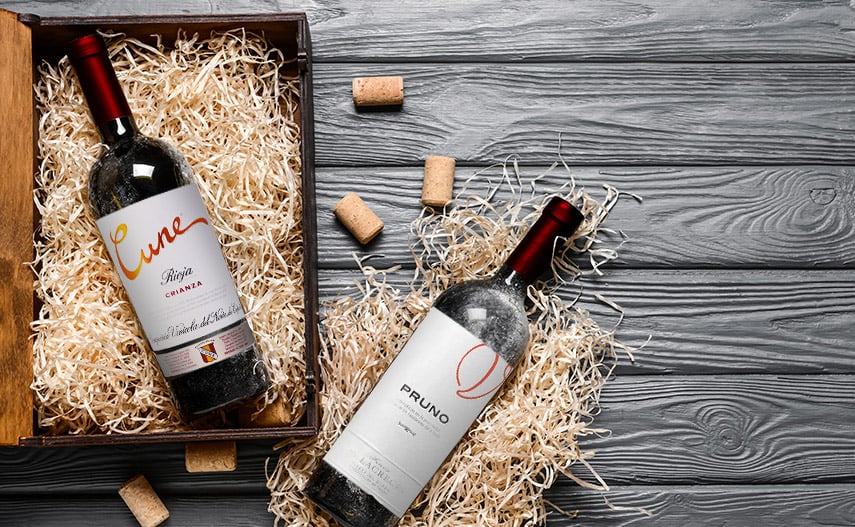 4 major differences between Rioja and Ribera del Duero
1- Territory
The D.O.Ca Rioja is located in the north of Spain, on both banks of the Ebro River, and is divided into three main areas: Rioja Alta, Rioja Alavesa and Rioja Oriental. More than 65,000 hectares spread over the provinces of La Rioja, the Basque Country, Navarra and Castilla y León, with a predominance of clayey soil with calcareous and ferrous nuances. In terms of climate, the Rioja region is characterised by a temperate and not very extreme continental climate thanks to the warm and humid air currents that come from the Mediterranean Sea through the Ebro River basin. All this means that the Tempranillo variety, the region's star grape, matures over time, achieves a good quality of nuances and produces round, ripe wines.

The D.O. Ribera de Duero is located within a strip of the Duero river basin, where the provinces of Burgos, Segovia, Soria and Valladolid meet. Here the soils are formed by layers of silty or clayey sands, with alternating limestone layers and calcareous concretions and at an altitude of between 720 and 1,100 metres. The climate is also continental, but it is set apart by the significant temperature differences between day and night. Because of this complex soil and extreme climate, the grapes themselves (Tinta Fina in Ribera del Duero) are completely different. Grape ripening is shorter, and this may explain why Ribera del Duero wines are powerful and full-bodied.
2- Varieties
Bearing in mind that it is red wines that have made these two regions famous, the Tempranilla or Tinta Fina variety is the leading variety in both places but with very different characteristics. However, when it comes to coupages, the other varieties used are very different. While in Rioja they usually use Garnacha Tinta, Mazuelo and Graciano, in Ribera they typically use French varieties like Cabernet Sauvignon, Merlot and Malbec.
3- Aging
If there is one thing these two wine regions in northern Spain stand out for, it is their wood-aged red wines. Both regulatory councils classify wines by the time spent aging in wood and the bottle, with wines classified as Crianza, Reserva and Gran Reserva. Ribera del Duero also has the Roble category for wines aged for less than 12 months. However, although both use wood for wine aging, it should be pointed out that the woods they use are often different. In Ribera it is more common to use new French oak offering tertiary aromas of vanilla and other spices. In Rioja, American oak has traditionally been used, often for various purposes, achieving typical aromas of coconut, leather and game.
4-Style
As a result of the above three points, the differences between Rioja and Ribera are easy to spot. While Rioja wines tend to be more elegant and smooth in style, with balanced acidity and a noticeable presence of oak, Ribera del Duero wines tend to be more intense and concentrated, with a greater presence of black fruit and a more tannic profile.

That said, although each wine region has its own personality, what Ribera and Rioja do have in common is that they are both home to many wineries that produce great wines. Learn more about them on Decántalo.