Central European wines, the heart of the Old World
Countries like Italy, France and Spain are a real garden for viticulture and they sit right at the top of the list of the world's wine producers. However, the heart of the Old World is once again beating strongly in the central European countries which, thanks to ancient winemaking methods, an understanding of the very particular climatology, rescuing the most authentic varieties and a new generation of enthusiastic young winemakers who skillfully combine tradition and the avant-garde, is revealing a new Old World that is worth discovering.

Are you up for it?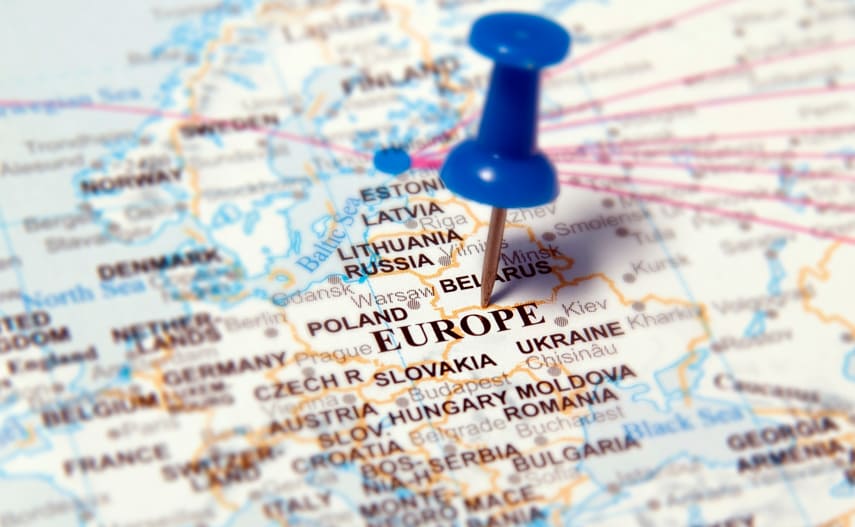 Germany has taught us that white wines can be more than vintage wines, but this was not originally the case. German wines were made to be enjoyed socially and not as accompaniments to meals, so they were uninteresting wines, made in quantity, not quality, and high in sugar. The miracle of German wine came when German producers realised the importance of making quality wine with a perfect balance between sugar and acidity. Since then they have managed to get the best out of one of the best known and most sought-after white varieties in the world, the Riesling, which they use to create wines with incomparable freshness and delicacy, a low alcohol content and significant longevity.

Germany never ceases to amaze us. 65% of German vineyards are used to make white wines. As well as the famous Riesling wines, there are also some excellent bottles made with varieties like the Müller-Thurgau, which produces wines that are more floral and fuller-bodied than Riesling; the Grauburgunder and Weissburgunder grapes (Pinot Gris and Pinot Blanc) which create wines with a softer acidity and flavours of stone fruits, and wines made with the Silvaner variety, with flavours of passion fruit and peach, accompanied by a herbaceous touch and a fresh acidity.

But what about the rest of the German vineyard?
We already know that Germany is famous for its great white wines but it is worth mentioning that there are also some great red wines that are ideal for enjoying in the summer! These red wines are free from excessive tannins and overripe fruit, perfect for those who love fresh and smooth wines.

They are made mainly from the Spätburgunder variety, the third most widely planted grape in Germany after the Müller-Thurgau variety and, of course, Riesling. Spätburgunder may sound very exotic but it is actually just what they call the Pinot Noir variety in this country. This grape produces wines with touches of strawberries and cherries accompanied by earthy notes. They have low tannins and medium-high acidity and some also have beautiful concentration and depth.
There are some similarities between Germany and Austria in terms of the way their wine industries have developed. Austria had to fight its way back after various scandals in 1985 destroyed the reputation of its wines. Now, Austria's wines stand on the shoulders of the country's flagship white grape: Grüner Veltliner, which produces fresh, herbaceous and deliciously spicy white wines reminiscent of the herbal and white peppery notes found in Sauvignon Blanc wines.

And just like Germany, 70% of the Austrian vineyard is planted with white varieties, predominantly Grüner Veltliner, but you might be surprised to hear that this Central European country has around 35 different types of grapes, including Zweigelt, the most widely planted red variety in Austria, which is used to make light red wines that are reminiscent of Gamay or Garnacha, with notes of black cherries and raspberries and a bitter or acidic finish that becomes deep and concentrated if left to oxygenate before drinking.

There are also some red wines made with the Blaufränkisch variety that in their youth reveal big tannins and marked acidity, but as they age, they transform into subtle and exuberant wines with notes of sour cherries, blackberries and elegant citric nuances.

It is worth noting that for some time now Austria, as well as improving its image as a producer of quality wines, is home to a new generation of winegrowers who are experimenting with ancient methods or using cutting-edge techniques with the aim of producing authentic wines, where the focus is on a respect for the environment and natural character. They could not be more genuine!
Slovenia was formed in 1991 when it gained independence from Yugoslavia. That means the Republic of Slovenia as a country is much younger than its winemaking history. This exceptional region has some of the best geography for growing vines, comparable to that of Burgundy in France. Slovenia is such a rich land that it is home to 52 different varieties.

It has three regions where all kinds of wines are produced: white and red, light and full-bodied, dry and sweet. Caressed by the Mediterranean, like the Vipava Valley, or pampered by the sun, like Podravje, which is apparently home to 4% of the best vineyards in the world. Great white wines are produced here using varieties like Furmint, which produces dry white wines with characteristics similar to those of the Riesling grape. Welschriesling, Sauvignon Blanc, Yellow Muscat and Riesling are also outstanding. The red varieties include Frankinja (Blaufränkisch) and Modri Pinot (Pinot Noir).

It all rolls off the tongue, but we are actually talking about a region with some of the most fascinating wines in the world. Nowadays, organic and biodynamic farming principles are on the rise, and orange style wines are causing a real revolution. Slovenia is, without a doubt, a country to pay attention to, with a limited and exclusive production that you can't miss.
The Czech Republic does not live on beer alone. Although this country is the biggest brewer in the world, it has a deep-rooted winemaking tradition and its oenological potential is much greater than you might think.

Two significant regions stand out: Moravia, which is at the same latitude as Alsace and Burgundy, is home to 96% of the country's vineyards; and Bohemia, the most famous region of the Czech Republic, also known for its famous crystal, which is home to 4% of their vineyards. This Central European country grows 35 white varieties and 26 red varieties.

Fortunately or unfortunately, global warming is proving beneficial for the Czech vineyards, so the pinnacle of their winemaking splendour is still to come. In the meantime we can enjoy the current revolution championed by winemakers like Milan Nestarec who are producing the most authentic wines with minimal intervention that puts the focus on the grapes. These wines are full of freshness and vivacity and are the perfect surprise to enjoy all year round.

These four Central European countries also produce some world-famous, high quality sparkling and sweet wines, some of them made using grapes with botrytis (noble rot). So, there are plenty of reasons to delve into the extraordinary and authentic viticulture of central Europe.

Countries like France, Italy and Spain have a great tradition, making wines that are here to stay and that many of us already know and love. But why not take a look at the revolution happening in Central European countries, where some of the most interesting wines in the world are making a strong impression, and fortunately, they are easy to come by and enjoy. Allow yourself to be surprised!