Right to return (14 calendar days)
Customer rating: Excellent
Pruno
Best Spanish wine in history for less than $20 according to Robert Parker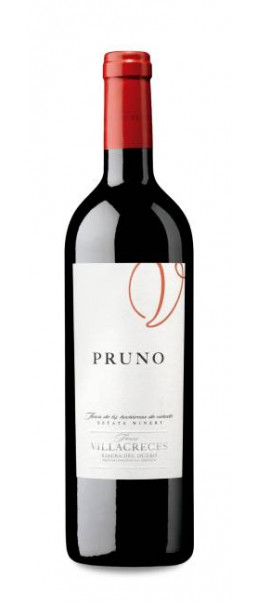 Red wine Aged in wood. 12 months in French oak barrels.

Alcohol:
14.00%

Designation:
D.O. Ribera del Duero

Winery:
Finca Villacreces

Volume:
75 cl.

Production area:

Castilla y León

Varieties:
90% Tempranillo, 10% Cabernet Sauvignon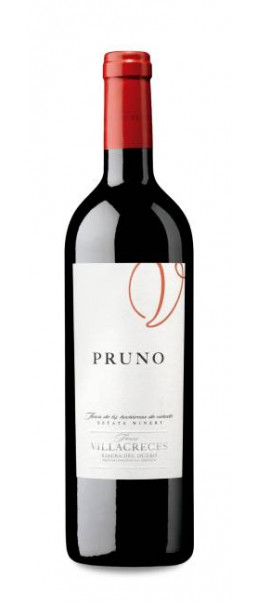 Red wine Aged in wood. 12 months in French oak barrels.
Service
Pairing
Red meat, Rice dishes, Game, Salads
Style Pruno 2020
Characteristics Pruno
Pruno is a red wine from the Ribera del Duero produced by Bodega Finca Villacreces, one of the wineries belonging to Artevino Group. The winery was acquired in 2004 by Gonzalo and Lalo Anton and inaugurated in 2007, following the refurbishment of facilities and the recovery of the vineyard.

Pruno is the smallest of the wineries and was the last to join the family. Pruno continues to receive good reviews, vintage after vintage, including by Robert Parker. Robert Parker is a great lover of this wine and named it as the best Spanish wine in history for less than $20. 
The climate in the Ribera del Duero is continental but with an Atlantic character. It is characterized by dry summers, long and harsh winters, pronounced seasonal temperature fluctuations and a moderate-low rainfall of 350-500 mm each year. This wine is a blend of Tinto Fino (90%) and Cabernet Sauvignon (10%) from 64 hectares of the Finca Villacreces property in the Milla de Oro in Ribera del Duero. The vineyards are planted on sandy loam soil about 710 metres above sea level.

Regarding the preparation of this fantastic wine, after a manual harvest is carried out in boxes of 15 kg. Grapes undergo a double selection, clusters are first selected manually and then go through a ventilation system. Subsequently, alcoholic and malolactic fermentation is performed in stainless steel tanks before maturing. Pruno spends 12 months in 3 year old French oak barrels. A wine with an excellent value.
Real reviews from customers who have purchased this product
Ratings Pruno
Tasting notes Pruno
Pruno 2017 is an intense and balanced red wine. This vintage once again displays its excellent value for money. Expressive on the nose, with ripe red fruit and elegant spicy notes. On the palate it is fluid and full of personality, with a lingering finish.
Pruno 2016 is a medium-bodied red wine from a vintage where the great production has managed to provide good fluidity to the wine. This wine has rested 12 months in the barrel to achieve a more serious and spicy profile. A good, balanced wine with an excellent price for pleasure.
In the mouth it is powerful and fresh, flavoursome and fleshy. We appreciate fruits and some liquorice. Good acidity. Medium-length aftertaste.
Cherry red with violet hues. Clean and bright.
The nose has a medium to high intensity. It is a clean, fresh wine, with a clear role of red fruit with roasted and smoky notes from the barrel. When opened, this wine shows aromas of ripe black fruit accompanied by dairy memories, spices and liquorice and vanilla. Floral and balsamic background.
A powerful and fresh attack. A tasty and fleshy mid-palate with very present and strong fruit hint on the palate. Good and well-defined acidity and intense tannins. A medium-long finish with slight and pleasant bitter hints with a great and spiced persistence.

Intense cherry red with violet edges. Clean and bright with a dense tear.

A medium-high intensity nose that is also clean and fresh. The fresh red fruit is well matched by signs of its ageing in wooden barrels. When the bottle is opened, aromas of ripe dark fruit appear alongside roasted and milky hints, spices, liquorice, vanilla and subtle floral touches against an intense balsamic backdrop.
Powerful and fresh attack. Tasty and fleshy on the palate, with lots of fruit and something alcoholic. Good acidity, well defined. Intense tannins. Medium-long finish with slight bitter, but pleasant notes and good persistence, somewhat spicy.

Intense picota cherry colour with violet rims. Clean and bright with dense tears on the glass.

Medium-high intensity, clean and fresh nose. Fresh red fruit is accompanied well by notes of its ageing in wood. Once opened out, aromas of ripe black fruit appear, roasted and lactic nuances, spices, liquorice and vanilla, subtle floral touches and an intense, balsamic background.
In the mouth, it is pleasant and sweet. Ripe fruit, liquorice, roasted notes and toffee. Great and long aftertaste.

Purple colour, almost opaque.

Fruity aromas.
Extraordinary and pleasant 
wine from the Ribera del Duero
 with a good attack and very tasty, sweet, soft, silky and very fresh mid palate. Its high presence of fruit is noticed along with the creamy and spicy notes provided by the wood. Its correct acidity provides the wine with a good freshness. Polished tannins and a kong and very persistent finish. An elegant and very tasty fruity wine to be enjoyed.
Intense cherry colour with violet edges. Medium robe. Bright and dense legs.
Clean and fresh in the nose. Its notes of fresh red fruit are very well integrated with the creamy notes provided by the oak. When it opens up, some notes of mocha, licorice and vanilla are displayed along withsubtle floral and balsamic touches and a slight mineral nuance. Very elegant and a little sweety.
Nice smooth passage through the mouth and memory.

Intense cherry color.

Aroma of red fruits with an accompaniment of oak which foresees its entry gourmand and sweet.

Alcohol

Production area

Designation

Winery

Varieties
90% Tempranillo, 10% Cabernet Sauvignon

Volume
Others wines Finca Villacreces
Since its last stage, at Finca Villacreces they considered the option of carrying out viticulture according to the most significant integration elements, to be able to conceive and personalise their wines from the vineyard itself. With this premise, they thought of the need to acquire full knowledge on the nature and its environment. All the senses were involved: search, methodology, innovation and tradition, all with the aim of extracting the maximum identities from the terroir and the fruit.