Naiades
White wine Crianza. 7 months in French oak barrels.
Production area:

Castilla y León
Tipo de Uva:
100% Verdejo

White wine Crianza. 7 months in French oak barrels.
Free shipping to mainland Spain and 50% discount to the Balearic Islands on orders over 150€
Right to return (14 calendar days)
Customer rating: Excellent
Service
Pairing
Baked white fish, Raw seafood, Alone, White fish in sauce, Grilled seafood, Fish stew, Fish rices, Boullabaise, Complex salads, Goat cheese, Cod, Tempura
Style Naiades 2018
Characteristics Naiades
Naiades is a white wine from D.O. Rueda produced by Bodegas Naia from the town of La Seca.
This single variety Verdejo is the reigning grape variety in D.O. Rueda. The grapes are grown on very old vines, pre-phyloxera, where they are more than 100 years old and planted on small estates with a sandy surfaces.
The change of temperature between winter and summer is extreme, reaching up to 50 degrees difference, giving the grape count a great balance and acidity.
The harvest is done by hand during the night in order to preserve the freshness of the grape. Once in the winery, the grapes go through a sorting table where they only select bunches that have had a homogeneous maturation.
Naiades undergoes a fermentation in French oak barrels, before it passes through an aging process in the same barrels for 7 months. It stays in contact with it lees to help the wine gain unctuosity and character.
Naiades is a white wine that has a great aging potential, one of the great wines from Rueda that ferments in the barrel and has a very limited production.

Real reviews from customers who have purchased this product
Ratings Naiades
Tasting notes Naiades
Naiades 2014 is a mature, elegant and creamy white wine. In this vintage, the aromas of ripe white fruit stand out, with mineral notes on a slightly toasted background. In the mouth, it is ample, with structure and with a very long and persistent finish.
Sweet fruit, citric. Certain minerality. With a long and persistent finish, without losing freshness.

Pale yellow in colour with green reflections.

Elegant and complex on the nose. Wood nuances from the aging. The presence of fruit like peach or apricot and citric touches.
This
white wine
has good attack and is unctuous, fresh and agile on the palate. Powerful citric acidity which is very refreshing and well-integrated. Dry and long finish leaving mineral and fruity notes at retro-olfaction. Careful work with wood that perfectly accompanies the fruit.
Pale yellow colour with golden relfections. Very clean and very bright. Fine and abundant tears on the glass.
Highly intense, clean and complex nose. Aromas of ripe white fruit, apricots, melon. Citrus notes of mandarins, lemon peel and tropical notes of pineapple. A little bit more hidden, herbal touches appear and subtle lightly toasted balsamic notes.
The tasting repport of this wine is being translated. Meanwhile, you can check the Spanish version.


Great, very large and bulky attack in which the mouth is filled with elegant and subtle notes of wood very well integrated with the fleshy and ripe fruit. It shows an extraordinary acidity that comes along with this wine's smoothness and silkiness. Very long and persistent finish. Naiades 2008 is a serious, elegant, subtle, delicate and concentrated wine with its own character. Very personal wine.

Attractive golden colour with golden reflections. Clean and bright wine with unctuous tears.

Attractive aromatic complexity, with an intense and seductive load of fruit that ranges from white to tropical, as well as refreshing citrus and a different note of ripe melon. Its elegant notes of white flowers are mixed with its toasted and smoked aromas provided by the barrels.
Dense and unctuous attack and mid-palate. The notes of wood come along with touches of good fruit. This wine is long and broad, fresh, with good body and good structure. Balanced acidity. Long finish with herbal aftertaste.


Yellow-green with golden and lemon reflections. Clean and very bright.


Complex, intense and delicate wine, because of the oak ageing. Under the touches of toast of the barrels (always present), varietal aromas are noticed, such as fruit (peach), citrus (mandarin) and subtle notes of white flowers and minerals. Subtle vegetable touches.
Elegant, subtle and intense wine, with seductive varietal notes and aromas of fine wood.

Rich in the mouth without losing freshness, along with final sensations of sweet fruits and minerality.


Greenish lemon yellow.


Elegant, subtle, intense, with seductive notes of the variety and flavors of fine woods.

Prizes Naiades
Decanter WWA 2013, Bronze Medal
Others wines Naia
Pictures and situation Naia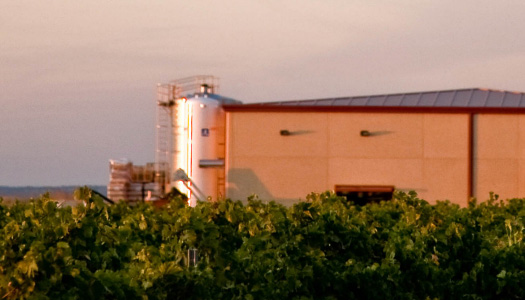 Others wines D.O. Rueda
When we talking about the Rueda wines, we are often referring to their white wines. The white wines produced in this region are often made with the Verdejo variety, the main variety of Rueda, planted along the Douro River and its tributaries. Rueda white wines often offer lots of floral notes, scrubland low, delicate aromas and a great acidity given by strong temperature differences between day and night. Apart from white wine, Rueda also produces red wine, often made with the Tempranillo variety.
Pictures and situation D.O. Rueda