Wine from winery Martín Códax
The essence of the Atlantic in a glass
The first Albariño with the Martín Códax label was made from the 1986 harvest. Its name evokes the figure of a medieval poet and illustrious troubadour, and it was the first serious project in Rías Baixas to definitively challenge the image of sparse and cloudy wine. After years of hard work, large investments and difficult decisions, this winery has demonstrated that it not only holds a sixth sense for foretelling new trends in the wine market, but can also execute them with impeccable skill.
More about Martín Códax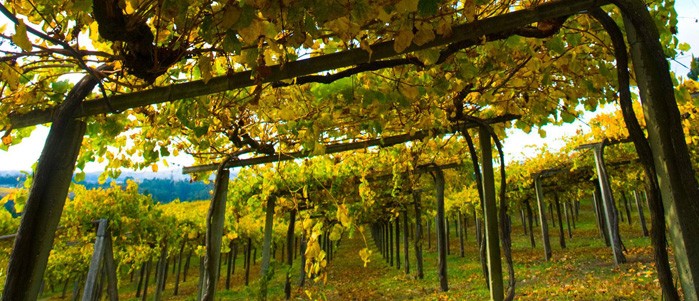 Surrounded by beautiful views and a unique landscape, the winery offers a diverse and attractive programme of enotourism for individuals as well as groups, and it welcomes company activities. Visit their modern facilities, taste their wines with the winemakers, see the production process up close, and even take part in tasks during the harvest. Participate in their Senses Workshop, unique in Galicia, or just relax with a glass of wine on their outdoor terrace with views to the Arousa River and the vineyards decorating the Salnés Valley. Part of the experience is to discover not only the essence and Atlantic character of their wines, but also the beauty of this landscape.
History of the winery
They launched this winery project in 1986 as the Cooperativa de Cosecheiros de Albariño de Vilariño-Cambados. It became a limited company in 1998 under the Martín Códax name, which evokes a famous Galician troubadour. His songs and poems about love, the sea and the coasts are still known today, and are the oldest surviving Galician-Portuguese works.
The winery was founded thanks to an idea by a group of winemakers, which is currently composed of 270 members, and the collaboration of 300 families that supply the grapes for the wines.
Luciano Amoedo, Bodegas Martín Códax's oenologist, is the ninth generation of a family entirely dedicated to the profession. He promoted the creation of the DO Rías Baixas, and is a founding member of the winery. He holds a degree in Technical Agricultural Engineering, specialising in Viticulture and Oenology, and has belonged to the Wine Tasting Committee of the DO Rías Baixas since its creation. He is also currently a member of the Appellation's committee.
Furthermore, since 2005, Katia Álvarez has been at the forefront of the wineries' management of production and oenology; she has a degree in Oenology, although she achieved a diploma in Technical Agricultural Engineering first, specialising in Agricultural and Food Industries.
This winery is located on Burgáns hilltop in the heart of the Salnés valley, near Cambados, overlooking the spectacular Arosa River. Its facilities, constantly in development and refurbishment, are modern, spacious, luminous, clean and sterile, with abundant Galician materials such as wood, granite and slate, which combine with gleaming stainless steel, sophisticated chilling equipment, new pneumatic presses and a few new white French oak barrels from Allier to nuance their white Organistrum, one of the first Albariños aged in wood that appeared on the market, to surprise us all.
Work Philosophy
Bodegas Martín Códax have always supported investigation and development, carrying out different projects such as Pé Redondo, an experimental vineyard to deepen their knowledge of the Albariño grape and improve the quality of their products.
They also work actively for the environment, constantly in pursuit of sustainability and to reduce their carbon footprint as much as possible. Their research and development projects are directed at reducing the environmental impact in the vinicultural field and to combat the effects of climate change, where sustainability is also a primary objective for all of the labour force working in the winery.
In addition, in 2003, they carried out a performance test on the Albariño with ten different rootstocks to see how the variety would respond to the different strengths, and to study how it would affect cultivation cycles, production and quality.
They also carried out a performance study on the Albariño with four different trellis systems in order to establish new trellises and study the performance of the vines with each one, taking the quality and quantity of the harvest into account, as well as the cost of each particular case.
More recently, the winery actively took part in the Viñas Atlánticas project, promoted by the Pontevedra Council (Diputación de Pontevedra), which consists of a network of sensors in the Salnés region monitoring meteorological data that would allow them to collect information about diseases and reduce the use of chemical treatments and products during wine production. Currently, Martín Códax is applying an environmental management system that contributes to sustainable development in winemaking activity through the protection of biodiversity, reduction of carbon emissions, and sustainable exploitation.
Furthermore, the winery's main vineyards are located in small plots, cultivated using the traditional system of trained vines. They are looked after by the winery's technical staff to achieve the maximum quality possible. The harvest is carried out manually and the grape bunches are transported in 20kg boxes to avoid them bursting and reducing their quality. They use 30,000 litre stainless steel tanks for alcoholic fermentation. Furthermore, they use a microvinification room to carry out research on particular plots in terms of soil composition, altitude, sun exposure and yield.
Wines from the Martín Códax winery
The range of wines by Martín Códax comprises of a total of 10 wines in the DO Rías Baixas; a 100% white Godello wine in the DO Monterrei, Mara Martín, which was awarded the Medalla de Oro at Cinve 2016 and forms part of the Atlantic Wines collection; as does Alba Martín, an Albariño that conveys the frankness of the Atlantic Ocean; and the Anxo Martín, a blend of 85% Albariño, 10% Caíño Blanco and 5% Loureiro.
The white Martín Códax, 100% Albariño, is their standard wine and represents the winery's young style. It is fresh and lively, but has a firm Albariño character, a frank and clean aroma, with white fruits (apple and pear), grapefruit citrus fruits and fresh greenery. It has a serious, wide, enveloping and fruity palate with lemon notes and an acidic streak to strengthen a long, delicious and very fresh finish.
Organistrum is their Albariño aged in French oak barrels from Allier. A white wine with a fine and suggestive nose, with white fruits in syrup, perfectly matched with smoked spices and vanilla; it is very elegant and expressive.
Another outstanding label is Gallaecia. It was started in 1996, an overripe Albariño that intensifies and concentrates the wine's aromas, and offers a friendly and fresh palate at the same time. This is because it conserves its natural acidity, but its production is always dependent on favourable weather conditions for the vintage. It is an authentic Albariño in its design, with plenty of aromatic expression, very ripe fruit, floral notes and trivial volumes of botrytis. It is creamy with a formidable structure.
It is also worth mentioning Martín Códax Lías, an Albariño from the 'Pé Redondo' estate, an experimental vineyard located in the heart of the Salnés Valley, with a limited and numbered production. This Albariño undergoes a 'battonage' treatment with its lees for two months, and is later aged at rest for ten months on its lees. This unique method provides creaminess in the mouth, as well as more complex aromas and a better inclination for being aged in the bottle. It has an intense nose, with very ripe apple and peach, with notes of pastries and fine baked vanilla, with a wide, creamy, fruity palate with lactic notes and hints of baked bread.
Martín Códax Vindel is one of their latest wines. It is from an extreme viticulture aimed at finding a less vigorous, but more porous vineyard with a high leaf surface that produces a very low yield and makes the quality of these pink Albariño grapes unique. It ferments in stainless steel tanks and 225 litre barrels.
Marieta is a semi-dry Albariño, and Alba Martín Espumoso is made using the traditional Champenoise method, with an optimum balance between acidity and alcohol content, as well as being a good expression of the Albariño variety.
Martín Códax also owns a small winery in the DO Bierzo, Bodega Cuatro Pasos, in a refurbished stately home dating back to the eighteenth century in Cacabelos. They make four wines with exclusively Mencía grapes: Pizarras de Otero, a young elegant red wine, which is balanced in the mouth; Cuatro Pasos Tinto, with two months spent in French and American oak barrels; Cuatro Pasos Rosado, their latest creation, which is aged briefly on its lees; and Martín Sarmiento, which spends six months in French and American oak barrels.
They also make and market a red wine, Música en el Camino, in DOCa Rioja. This wine comes from grapes from the Rioja Alta, where a large part has been aged for eight months in one year old American oak barrels.
Situation of Martín Códax
Filter and sort