Right to return (14 calendar days)
Customer rating: Excellent
Juan Gil Blue Label
A mature, concentrated Jumilla wine: an explosion of fruit and spices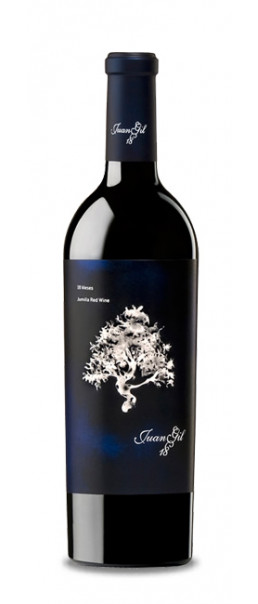 Red wine Aged in wood Vegan. 18 months in French and American oak barrels.

Alcohol:
15.50%

Designation:
D.O. Jumilla

Winery:
Juan Gil

Volume:
75 cl.

Production area:

Murcia

Varieties:
60% Monastrell, 30% Cabernet Sauvignon, 10% Syrah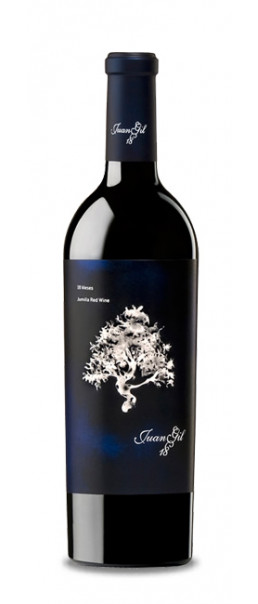 Vegan
Red wine Aged in wood Vegan. 18 months in French and American oak barrels.
Service
Serve at:
15.0°C
We recommend decanting
Pairing
Aperitif, Legumes, Cured cheeses, Blue cheeses, Red meat, Game
Style Juan Gil Blue Label 2020
Characteristics Juan Gil Blue Label
Juan Gil 18 meses is a red wine from the winery Juna Gil in the D.O Jumilla. The winery is located in Jumilla in the north of the province of Murcia.
Juan Gil 18 meses is produced from Monastrell (60%), Cabernet (30%) and Syrah (10%). The grapes originate from very old vines (70 years old), planted at a height of 700 meters above sea level in sandy, chalky and stony soils which are very poor in nutrients.
This type of soil combined with a large range of temperatures favours a scarce grape production, this is translated into an exceptional concentration of flavours.
For the production of Juan Gil 18 meses, each varietal is produced separately. The maceration and fermentation process is performed in small stainless steel containers and the malolactic fermentation in French and American oak barrels.
Once finished, the wine rests in French and American oak barrels for 18 months. Lastly, the blend is made and remains in the containers until bottled.
Real reviews from customers who have purchased this product
Ratings Juan Gil Blue Label
Tasting notes Juan Gil Blue Label
Juan Gil 18 meses is a concentrated red wine. In this wine, they have wanted to extract all the potential of the varieties in a Mediterranean climate. Each time, the contribution of the wood is less evident. The toasted notes are becoming more subtle, giving more complexity to the explosion of fruit and spices from the different varieties.
Fine and aromatic on the palate. Light, unctuous and very flavoursome, sensation of black fruits that harmonise with fine roasted touches. Round tannins and good acidity. Structured and very elegant.

Intense cherry red with garnet sparkles.

Large aromatic intensity, highlights of black fruit over roasted notes. Lightly balsamic and spicy base.
On the palate this wine is complex and very well structured. Good, balanced and aromatic attack. Toasted notes of cocoa and spices. Juan Gil 18 meses has an elegant finish, with some very enjoyable raipe fruit tannins.

An intense cherry colour with maroon rims.

In the nose this wine gives off aromas of black fruits, roasted hints and some balsamic notes.
The tasting repport of this wine is being translated. Meanwhile, you can check the Spanish version.


A very tasty and concentrated Spanish wine from
Jumilla
 with a powerful, embracing and comprehensive attacks which gives way to a very silky, intense, sweet and fresh mid palate with a great charge of fruit very well integrated with the other aromas felt on the nose. A pleasant creaminess and a slightly more pronounced cocoa are also noticed. Excellent acidity and well integrated tannins. Very balanced wine with a very long and very persistent finish which leaves endless notes of nice mellow aromas.  A wine to be enjoyed with all the senses.
Deep dark cherry colour with purple reflections. Clean and bright wine with a high layer. Good and elegant tears that stain the glass slightly.
Seductive nose with a very harmonious set that will be discovered little by little. Before swirling the glass, some nice toasted aromas are noticed along with some blatant mineral touches and some subtle balsamic notes. The notes of extremely ripe red and black fruit appear progressively and becomes more fleshy and intense while it wraps the aromas previously noticed. Very creamy mellow spices are also noticed along with hints of tobacco and cocoa, elegantly integrated. Subtle and delicate herbaceous background.  A pleasure!
Powerful, well-structured, fresh and sweet wine. It is embracing at the attack and shows a very silky and very meaty mid palate. The same notes of fruit found in the nose emerge in perfect balance with its good toasted, balsamic and spicy aromas and its intense notes of black chocolate. It has an excellent acidity and noble, tasty and well integrated tannins. Very long and persistent finish that leaves a mellow feelings. A pleasure! A very tasty wine.

Intense dark cherry colour with purple edges. High layer, clean and bright wine with dense tears that stain the glass slightly.

Powerful, very intense and very fresh aromas. Its elegant toasted and balsamic notes provided by the oak are felt on first nosing. Once opened, an explosion of notes of black fruit and some slightly liquorised ripe red fruit, almost jam, is noticed along with some creamy notes of milk and spices. Subtle floral notes and tobacco are also felt. A perfectly harmonious bouquet.

Alcohol

Production area

Designation

Winery

Varieties
60% Monastrell, 30% Cabernet Sauvignon, 10% Syrah

Volume

Alcohol

Production area

Designation

Winery

Varieties
60% Monastrell, 30% Cabernet Sauvignon, 10% Syrah

Volume
Others wines Juan Gil
Bodegas Juan Gil is the originator of the group Juan Gil Bodegas Familiares (Gil Family Estates), which gives its name to a reduced group of small wineries scattered throughout the Spanish geography. These wineries have been incorporated into the family since 2002, with the common denominator of using native varieties, in addition to offering a cared-for image, and an unbeatable value for money within the niche where each of their projects is located. Juan Gil is a clear bet for an area of ​​great oenological interest, Jumilla, conceived under the philosophy of empowering the identity of the terroir, as well as the personality and the quality of the native variety, Monastrell.