Right to return (14 calendar days)
Customer rating: Excellent
Izar-Leku Brut Vintage
Freshness, acidity and bubbly minerality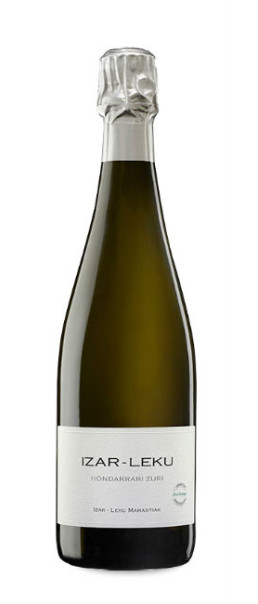 Other sparkling wines Brut Respectful agriculture.

Alcohol:
12.50%

Type of sparkling wine:
Other sparkling wines

Winery:
Artadi

Volume:
75 cl.

Production area:

Basque Country

Varieties:
50% Hondarribi Beltza, 50% Hondarribi Zuri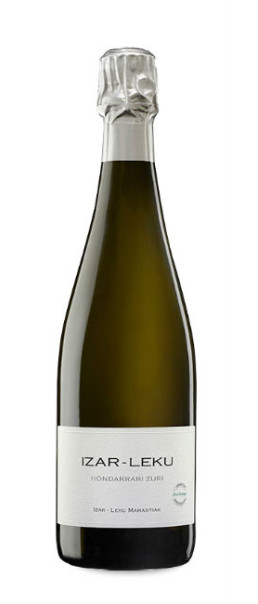 Other sparkling wines Brut Respectful agriculture.
Service
Pairing
Aperitif, Seafood, White fish, Rice dishes
Style Izar-Leku Brut Vintage 2018
Characteristics Izar-Leku Brut Vintage
Izar-Leku Brut Vintage is a sparkling wine made by the traditional method with the Hondarribi Zuri and Hondarribi Beltza varieties in the Basque Country by Artadi.

Artadi, one of the great Spanish wineries, came into being in 1986 out of the desire of a group of wine growers from the Rioja Alavesa to produce authentic wines with a distinctive character. Headed by Juan Carlos López de Lacalle, they joined forces and 30 years later they've become a group with three quality wineries: Bodegas y Viñedos Artadi in Laguardia (Rioja Alavesa), Bodegas y Viñedos Artazu in the D.O. Navarre and Bodegas y Viñedos El Sequé in the D.O. Alicante.

Izar-Leku Brut Vintage originated on vineyards located in the town of Zarautz (Guipúzcua), set on slopes of clay soil with slate and basalt. They're vines of the native hondarribi zuri and hondarribi beltza varieties, which are cultivated using respectful agriculture and the grapes are harvested manually and placed in 10 kg boxes.

At the winery, Izar-Leku Brut Vintage is made using the traditional or Champenoise method. Firstly, the grapes macerate in the cold for 24-48 hours and then, pressed, they ferment in stainless steel tanks for about 10 days at a constant temperature of 16ºC. The base wine remains there on its lees for 6 months. Then the tirage is carried out for subsequent bottle fermentation and remains in stacking for 30 months. Finally it's disgorged without adding expedition liquor.

Made with the typical txacolí varieties, Izar-Leku Brut Vintage is a sparkling wine whose name means "the place of the stars" and which surprises due to its freshness, acidity and minerality.
Real reviews from customers who have purchased this product

Alcohol

Production area

Type of sparkling wine

Winery

Varieties
50% Hondarribi Beltza, 50% Hondarribi Zuri

Volume
Others sparkling wines Artadi
Bodegas Artadi was founded in Laguardia back in 1985 as the´Cooperative Cosecheros Alaveses'', led by Juan Carlos Lopez de Lacalle. It was an association of a group of growers that wanted to collaborate on a business project based on the viticultural wealth of the La Rioja Alavesa region. They wanted the opportunity to prove that the use of carbonic maceration could also produce great wines, and this they did. 
Artadi has a history linked to the memory and stories of the people who helped found the winery and make what it is today. Outside of the busy and overcrowded industry , Artadi is based on passion and respect for the land and vineyards.