Right to return (14 calendar days)
Customer rating: Excellent
Tomás Postigo 3er Año
A perfect blend of fruit and wood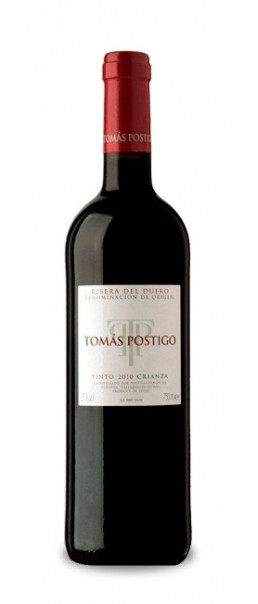 Red wine Aged in wood. 12 months in French oak barrels.

Alcohol:
15.00%

Designation:
D.O. Ribera del Duero

Winery:
Tomás Postigo

Volume:
75 cl.

Production area:

Castilla y León

Varieties:
Cabernet Sauvignon, Malbec, Merlot, Tinto Fino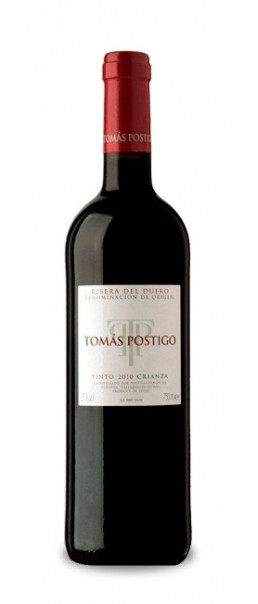 Red wine Aged in wood. 12 months in French oak barrels.
Service
Pairing
Charcuterie, Cured cheeses, Red meat, Game
Style Tomás Postigo 3er Año 2019
Characteristics Tomás Postigo 3er Año
Tomás Postigo Crianza is a red wine produced by the Tomás Postigo winery in Ribera del Duero.

Tomás Postigo is one of the oldest winemakers in Ribera del Duero. It began working in 1984, and brought several innovations in how to develop drip irrigation, the use of French oak for aging or working with movement using gravity.

Tomás Postigo Crianza is a blend is made with Tinto Fino as the main variety, and complemented with Merlot, Cabernet Sauvignon and Malbec.
The grapes come from a selection of small farms located in different locations in the Ribera del Duero, with diverse but predominantly calcareous and sandy loam soils with stones and gravel. The harvest is done manually in small boxes of 12 kg to ensure good grapes on arrival at the winery.
The grapes are destemmed and passed to stainless steel tanks by gravity, without squeezing. Each plot is done separately. The malolactic fermentation takes place in French oak barrels and tanks before being aged in 225 litre French oak barrels for 12 months.
Finally the blend of all the wines obtained from each plot is done to complete the outcome. Tomás Postigo Crianza is naturally clarified with egg white prior to bottling.
Real reviews from customers who have purchased this product
Ratings Tomás Postigo 3er Año
Tasting notes Tomás Postigo 3er Año
The taste is fresh and very well structured. Tasty and powerful. Very intense fruit, herbs and liquorice. Ripe and sweet tannins. A long, lingering finish.

Brilliant cherry coloured.

Prominence of black and red fruit with sweet spices such as vanilla and memories of undergrowth. Background of elegant toasted oak.
Pleasant entrance on the palate with present tannins but in-tune and sweet. Very tasty and creamy. A long finish.

By sight it is a pretty red cherry colour, very bright.

Complex on the nose with a ripe black fruit presence, pepper notes, vanilla, mineral notes and chocolate.

Alcohol

Production area

Designation

Winery

Varieties
Cabernet Sauvignon, Malbec, Merlot, Tinto Fino

Volume
Others wines Tomás Postigo
A great Ribera de Duero

D.O. Ribera del Duero (Castilla y León)