Right to return (14 calendar days)
Customer rating: Excellent
Antoine Sunier Morgon
Antoine Sunier Morgon, that precious object of desire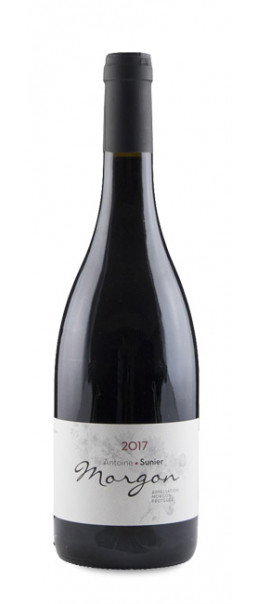 Red wine Aged in wood Natural, Organic and Vegan.

Alcohol:
12.50%

Designation:
AOC Morgon

Winery:
Antoine Sunier

Volume:
75 cl.

Production area:

Beaujolais

Varieties:
100% Gamay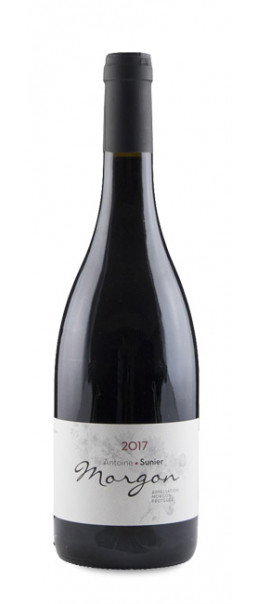 Organic

Vegan

Natural
Red wine Aged in wood Natural, Organic and Vegan.
Service
Pairing
Charcuterie, Red meat, Rice dishes
Style Antoine Sunier Morgon 2021
Characteristics Antoine Sunier Morgon
Antoine Sunier Morgon is a 100% Gamay dry red wine, a characteristic variety of the Beaujolais area, in France, a region known mainly for its "Beaujolais nouveau", a young and fruity wine that is world famous.

Yet, beyond these young wines produced by the demarcation, Beaujolais has 10 vineyards classified as Crus where more complex wines such as Antoine Sunier Morgon are produced. This is obtained from one of the very few plots that are grown organically in Beaujolais, where less than 5% of the territory is worked organically.

This Gamay wine, Antoine Sunier Morgon, is produced based on a semi-carbonic maceration with its own yeasts. The bunches are fed whole into the fermentation tanks and surrounded by an atmosphere of carbonic gas for a given time, giving rise to a fermentation within each grain in the bunch, a method that enhances the freshness and fruity aromas in the budding wine, which is subsequently aged in natural barrels and bottled without filtering.

Domaine Antoine Sunier is a small young winery that has made a great impression in recent years in Beaujolais. The wines produced by the brothers Antoine and Julien Sunier are unique, elegant, smooth and delicate. From its vineyards, 1.2 hectares of the production come under the AOC Morgon and produce wines that are aged in French oak barrels while respecting the values of organic farming.

Fresh, natural and vibrant wines, with the presence of ripe cherry that is characteristic of the wines from the Morgon region. Wines that, over time, also reveal earthy undergrowth notes that are reminiscent of Pinot Noir.

Antoine Sunier Morgon is a lively wine that is full of energy. A coveted treasure, worthy of any wine-lover's most personal wish list.
Real reviews from customers who have purchased this product
Tasting notes Antoine Sunier Morgon
Antoine Sunier Morgon 2017 is a rounded, light and fruity red wine with earthy notes on the nose. The presence of fruit of the forest can be detected, and especially of ripe cherries, blueberries and blackcurrants. It is juicy, with integrated tannins that give it silkiness, subtlety and elegance.

Alcohol

Production area

Designation

Winery

Varieties

Volume
Others wines Antoine Sunier
Fresh, natural and vibrant

AOC Régnié (Beaujolais)
Pure expression of the terroir

AOC Régnié (Beaujolais)