Right to return (14 calendar days)
Customer rating: Excellent
Grey Goose Vodka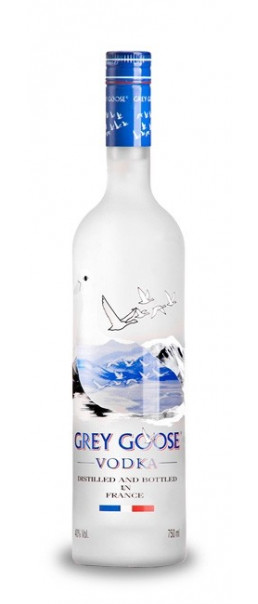 Initially soft with a gentle sweetness that gradually envelopes the mouth - smooth and rounded texture with a hint of almond. Fresh and bright throughout, with a long, satisfying finish.
Crystal clear.
Clear, fresh, with an elegant floral aroma accented by a subtle citrus note.
Vodka (70 cl.).
Characteristics Grey Goose Vodka
To create Grey Goose Vodka, Francois Thibault maintains an unrivalled level of craftsmanship, using only the very finest ingredients. Its signature smoothness and distinct character are the result of an extraordinary passion for spirit making and an unparalleled commitment to the highest possible quality.

The creation of Grey Goose vodka begins with the finest soft Winter wheat grown by three local farming cooperatives in the picardy región of France. Only the highest grade of wheat, "blé panifiable supérieur", is selected, the same grade used in the finest French breads and pastries. The wheat is sent to a dedicated mill and distillery, where it is transformed into a high-proof spirit. This wheat spirit is then perfectly blended with spring water from an exclusive well in Gensac-La-Pallue, in the Cognac arrondissement (region), where the water is natural filtered through limestone.
Real reviews from customers who have purchased this product

Alcohol

Volume

Alcohol

Volume

Alcohol

Volume
Others spirits Grey Goose