Right to return (14 calendar days)
Customer rating: Excellent
Juan Gil Rosado
A fresh and full-bodied rosé from Jumilla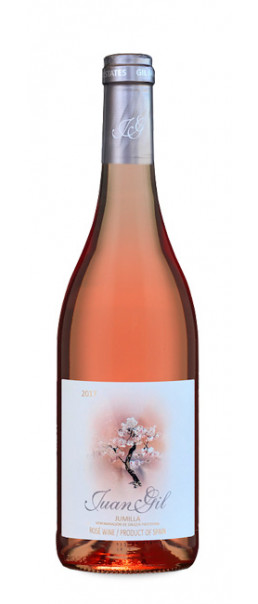 Alcohol:
13.00%

Designation:
D.O. Jumilla

Winery:
Juan Gil

Volume:
75 cl.

Production area:

Murcia

Varieties:
Petit Verdot, Syrah
Service
Pairing
Aperitif, Vegetables, Pasta, Salads, Rice dishes
Style Juan Gil Rosado 2021
Characteristics Juan Gil Rosado
Juan Gil Rosado is a barrel-aged rosé wine made by Juan Gil with the Syrah and Petit Verdot varieties in the D.O. Jumilla (Murcia).

Juan Gil is the product of four generations of work that began in 1916 when Juan Gil Jiménez set up a small winery in the centre of Jumilla (Murcia). Then his son Juan Gil Guerrero and his grandsons Juan and Paco Gil González carried on the legacy and turned it into a leading producer of the native Monastrell variety.

Juan Gil Rosado comes from the Finca de Juan Gil. The vineyards lie 700 metres above sea level and are planted on loamy-sandy and limestone soil that is very poor in nutrients. Although these vines are close to the Mediterranean Sea, they enjoy a continental climate, with abrupt temperature changes between day and night, which results in a small and highly concentrated grape.

In the winery, the Juan Gil Rosado grapes are fermented in concrete tanks at a controlled temperature below 18ºC. Once the process is finished, the wine spends several months in French oak barrels until bottling.

Recently, rosé wines from Jumilla have enjoyed great international success. An example of these wines is this Juan Gil Rosado, a fresh wine with the perfect body to enjoy all year round.
Real reviews from customers who have purchased this product

Alcohol

Production area

Designation

Winery

Varieties

Volume

Alcohol

Production area

Designation

Winery

Varieties

Volume
Others wines Juan Gil
Bodegas Juan Gil is the originator of the group Juan Gil Bodegas Familiares (Gil Family Estates), which gives its name to a reduced group of small wineries scattered throughout the Spanish geography. These wineries have been incorporated into the family since 2002, with the common denominator of using native varieties, in addition to offering a cared-for image, and an unbeatable value for money within the niche where each of their projects is located. Juan Gil is a clear bet for an area of ​​great oenological interest, Jumilla, conceived under the philosophy of empowering the identity of the terroir, as well as the personality and the quality of the native variety, Monastrell.