Right to return (14 calendar days)
Customer rating: Excellent
Carmelo Rodero 9 Meses
A Ribera de Duero made with care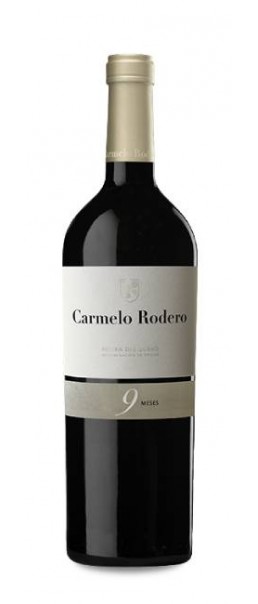 Red wine Aged in wood. 9 months in French and American oak barrels.

Alcohol:
14.00%

Designation:
D.O. Ribera del Duero

Winery:
Rodero

Volume:
75 cl.

Production area:

Castilla y León

Varieties:
100% Tinta del Pais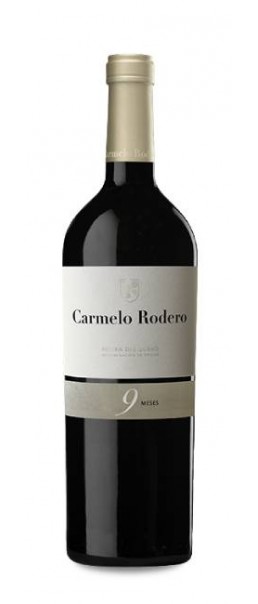 Red wine Aged in wood. 9 months in French and American oak barrels.
Service
Pairing
Red meat, Rice dishes, White meats, Charcuterie, Soft cheeses
Style Carmelo Rodero 9 Meses 2021
Characteristics Carmelo Rodero 9 Meses
Carmelo Rodero 9 Meses is a red wine made by Bodegas Rodero in Ribera del Duero.

The winery has 80 hectares of vineyards spread over the municipalities of Burgos Pedrosa de Duero, Boada de Roa, Roa and Mambrilla Castrejon, in the heart of the Ribera del Duero (Burgos).
Carmelo Rodero 9 Meses is made from 100% Tinta del País (Tempranillo). The grapes come from vineyards between 5 and 20 years old.
For the preparation of Carmelo Rodero 9 Meses, the grapes are de-stemmed and stripped for fermentation and maceration is then performed at controlled temperatures. Carmelo Rodero 9 Meses undergoes malolactic fermentation in stainless steel at 20-22 ° C.
After the fermentation process, the wine is aged for 9 months in barrels of French and American oak, subsequently resting in the bottle for about 3 months.
Real reviews from customers who have purchased this product
Ratings Carmelo Rodero 9 Meses
Tasting notes Carmelo Rodero 9 Meses
Carmelo Rodero 9 Meses 2017 is a frank, light and expressive wine. In this vintage, the aromas of ripe red fruit stand out, with very elegant toasted notes. On the palate it is lively, tasty and quite lingering.
Good entry, pleasant and fruity. Good tannins, elegant and velvety. Good acidity. Persistent finish.

Cherry red, high layer. Bright, fine and glyceric tears.

Medium to high intensity, aromas of black fruit and coffee. Lactic and vanilla notes.
Wide, persistent and velvety attack. Perfect amount of acidity; fruit and great tannins are predominant.

Clean and bright cherry red colour, with violet edges and sparkles. High robe. Tears of a great width and speed.

In the nose, it has a medium-high intensity. Floral and red fruit of the forest aromas, together with lactic and vanilla touches, typical of its ageing in wooden barrels.
A
wine from Ribera del Duero
 that coats the mouth with friendly, tasty and velvety sensations. It is bulkier than expected and shows expressive notes of fleshy and mellow fruit with the creamy texture provided by the wood. Excellent acidity and long very nice finish.  A round wine.
Intense, bright and clean cherry colour with maroon reflections. Good and thin tears.
Intense aromatic set in which an explosion of fresh berries is released wrapped in creamy vanilla and toasted aromas. Intense floral background.
Good wine with a broad and embracing attack. Silky, very tasty and intense mid palate. Its notes of fleshy fruit are well balanced with the creamy touches provided by the wood. Tannins are sweet. Good, long and lingering finish with a spicy aftertaste. A very elegant and round wine. Very nice and easy to drink.

Intense cherry colour with maroon edges. Bright wine with good and abundant tears.

Elegant and well balanced flavours among which the fruit and the wood are perfectly balanced without standing one on the other. The notes of red fruit and some touches of ripe black fruit are released along with balsamic and fine toasted notes. When it opens up, the spicy notes become sweeter. Light floral hints and a touch of coffee and toffee.
Large, round, perfect for any time and to save.

Intense ruby garnet hues.

Elegant aromas, delicate and penetrating.
Large, round, perfect for any time and to save.

Intense ruby garnet hues.

Elegant aromas, delicate and penetrating.

Alcohol

Production area

Designation

Winery

Varieties

Volume
Others wines Rodero
Since the beginning, Carmelo vouched for the future and for quality. He knew that the base for a great wine were good grapes. Therefore, his wines were soon awarded at the most important fairs and tastings, both national and international, serving as support and recognition of their quality. The continuous growth of this winery supports the existence of wines that combine quality, modernity and origin. The gentle and advanced production methods based on the native variety, Tinto Fino, continues to open new market paths, harvest after harvest.