Right to return (14 calendar days)
Customer rating: Excellent
Tokaji Oremus Aszú 6 Puttonyos
A world famous free run wine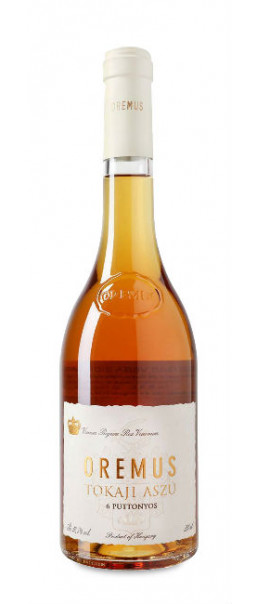 Production area:
Tokaj-Hegyalja

Varieties:
25% Furmint, 25% Hárslevelü, 25% Sargamuskotaly, 25% Zéta
Service
Pairing
Sweet desserts, Foie-gras
Style Tokaji Oremus Aszú 6 Puttonyos 50 cl. 2014
Less complex
Very complex
Less complex
Very complex
Characteristics Tokaji Oremus Aszú 6 Puttonyos
Tokaji Oremus Aszú 6 Puttonyos is a sweet wine made by the Oremus winery with the Furmint, Zeta, Harslevelü and Sárgamuskotály varieties, in the Tokai denomination in Tokaj-Hegyalja (Hungary). 
Oremus is a winery belonging to the prestigious Tempos Vega Sicilia group, whose star wine is the famous Tokaji. It's a winery the Álvarez family acquired in Tolcsva after the fall of communism, and, taking advantage of the underground labyrinth which has existed since the 13th century, they expanded the winery and followed a meticulous elaboration process to create one of the best wines in the world. 
Tokaji Oremus Aszú 6 Puttonyos comes from the most prestigious vineyards in the region, cataloged as World Heritage by UNESCO. Located at an altitude of 200 meters above sea level, there are 82 hectares of vineyard with 12-year-old vines and a yield of 172 kilos per hectare.  High quality grapes affected by botrytis, noble rot or Aszú which are selected one-by-one in the vineyard itself.
Tokaji Oremus Aszú 6 Puttonyos is vinified following the production method of 400 years ago. For this, 6 puttonyos (6 baskets of 25 kg of grapes with botrytis or Aszú) are added to the must in a Hungarian "de Gönc" oak barrel (136 liters). The noble berries are macerated there and, a day or two later, when they have swollen, they're gently pressed. Fermentation is very slow and can take up to two months. Then Aszú berry essence is added and finally the wine ages in new Hungarian oak barrels for 2 and a half years. 
Taking into account that the number of puttonyos (baskets) refers to the number of baskets of grapes with botrytis used in its production, Tokaji Oremus Aszú 6 Puttonyos is the sweetest in the winery. A world famous free run wine. 
Real reviews from customers who have purchased this product
Ratings Tokaji Oremus Aszú 6 Puttonyos

Alcohol

Production area

Designation

Winery

Varieties
25% Furmint, 25% Hárslevelü, 25% Sargamuskotaly, 25% Zéta

Volume

Alcohol

Production area

Designation

Winery

Varieties
25% Furmint, 25% Hárslevelü, 25% Sargamuskotaly, 25% Zéta

Volume