Right to return (14 calendar days)
Customer rating: Excellent
Pacharán Belasco 1580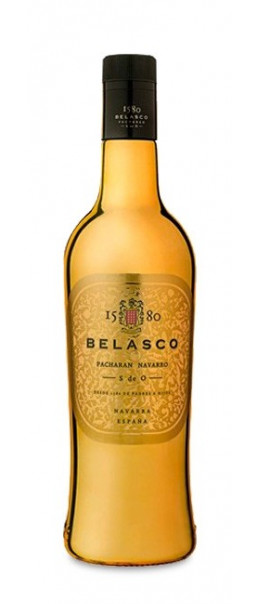 Characteristics Pacharán Belasco 1580
Pacharán Belasco is a patxaran produced by Destilería La Navarra using sloe fruits planted under the Navarro Council of Pacharán. The name is a tribute that Juan Ignacio Belasco, current president of the distiller group that owns the distillery, wanted to pay to his ancestor Diego de Belasco, who in 1580 founded a small distillery that later would lead to the Destilerías La Navarra.   

The best fresh sloe fruits are selected and macerated for 2 months in anisette, made from high quality natural spirits, anise and sugar. A high concentration of sloes are used, 300 grams per litre of alcohol, given Pacharán Belasco a deeper colour and a very fresh, fruity flavour.

Following tasting tests, only the best parts from the maceration process are added to the final mix. This mixture is filtered 5 times in order to remove any existing impurities.
This is a unique pacharán that is the exclusive result of the selection of the best macerated of the best sloes, as its shown by the 91 points scored on the "Guía Peñín de Destilados".
Real reviews from customers who have purchased this product
Others spirits Destilerías La Navarra