Right to return (14 calendar days)
Customer rating: Excellent
La Vicalanda Reserva
Made by of one of Haro's classic icons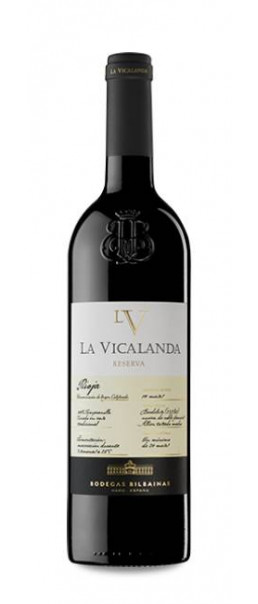 Red wine Reserva. 14 months in French oak barrels.

Alcohol:
14.00%

Designation:
D.O.Ca. Rioja

Winery:
Bodegas Bilbaínas

Volume:
75 cl.

Production area:

La Rioja

Varieties:
100% Tempranillo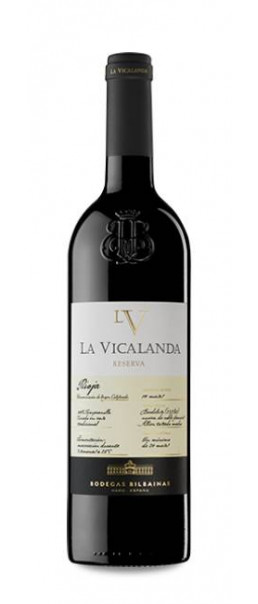 Red wine Reserva. 14 months in French oak barrels.
Service
Serve at:
17.0°C
We recommend decanting
Pairing
Red meat, Game, Aperitif, Cured cheeses
Style La Vicalanda Reserva 2016
Characteristics La Vicalanda Reserva
La Vicalanda Reserva is a red wine from the appellation of origin (D.O) La Rioja produced by the winery Bodegas Bilbaínas. The wine is a monovarietal from Tempranillo.
The grape originates from the best vineyards in the region, located only 2km away from the winery.
The soils from which La Vicalanda reserve is born from are calcareous and stony. The fields are low yielding but high in quality.
The vineyards are planted using sustainable agricultures practices.
At the moment of harvest, the grapes have reached an optimum stage of ripening and are then destemmed and pressed. La Vicalanda Reserva is macerated for 3 weeks at a temperature of 28ºC.
The wine is subsequently fermented (alcohol and malolactic) after which the must is racked to purify the lees and then enters the barrel.
La Vicalanda Reserva rests for 14 months in new Bordeaux oak French barrels from Allier. During the ageing process the wine is racked 3 times.
La Vicalanda Reserva, before being sold, the wine is aged for an additional 24 months in the bottle.
Bodegas Bilbaínas, is the oldest bottling company in La Rioja, it is owned by a group of different businesses: Viña Zaco, Viña Pomal and La Vicalanda.
Real reviews from customers who have purchased this product
Ratings La Vicalanda Reserva
Tasting notes La Vicalanda Reserva
La Vicalanda Reserva 2012 is a wine with a tertiary profile, that is, with aromas of its stay in the barrel that are still quite evident.  These are complemented with black fruits that will be refined in the bottle over time. A wine with a modern Rioja profile that will delight people who like concentrated wines.
Wide and a good body. Long and tasty after taste.


Clean and intense garnet red colour with purple and russet tones.

Clean and intense undertones. Notes of red fruit and liquorice which add to the typical touches that are found in wine aged in the barrel.

Alcohol

Production area

Designation

Winery

Varieties

Volume
Others wines Bodegas Bilbaínas
The century-old Bodegas Bilbaínas were born with a French heart and were established with a Riojan spirit. Bodegas Bilbaínas is the oldest bottling firm in La Rioja. It is the winery with the largest surface area of underground caves ("calados") in the whole region (3,400 m2). It also has the most extensive area of vineyards in the municipality of Haro. Since the beginning, the winery has been defined by its deep knowledge of the territory and the care in the production of its single-vineyard wines. These are extremely identified with the plots where they came from, hence their names: in 1911 Viña Pomal was created; in 1921, Viña Zaco; in 1923, the white wine Viña Paceta; and the range was extended in 1994 with La Vicalanda reserva, a distinguished and expressive wine that was born from the 9-hectare farm, selected in the vineyard area of Viña Pomal.