Spanish sweet wines, going beyond dessert wines
Sweet wines were, at one point in time, the most popular style of wine in the world, however, up to now, sweet wines have been undervalued for a long time, having to work extra hard to keep their place alongside the world's great reds and whites.
Spanish sweet wines are no exception. These are great gems of the winemaking world that have not been widely enough experienced to be recognised and valued. These wines are made using heroic methods and are an exquisite reward for patience. These wines deserve visibility so they can be appreciated as they deserve. And they are more versatile than you might imagine.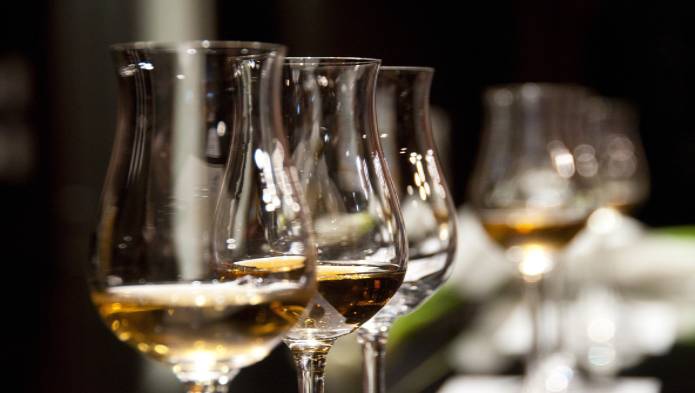 Sweet wines are not just dessert wines, they are complex and elegant and depending on their characteristics and level of sweetness, they can sit alongside an aperitif or be kept for after dinner. Here at Decántalo we have an interesting selection of sweet wines from different parts of the world that will surprise you. We think you will love them.
Would you like to find out more?
5 Spanish sweet wines you will love
If you are looking for an introduction to Spanish sweet wines, there is nothing better for you than the Alvear Pedro Ximénez 1927 wine. Made entirely with sundried Pedro Ximénez grapes, this wine comes from the winery's oldest solera, which was started in 1927. This wine ages for around 5 years and produces a powerful, flavoursome and sensual fortified wine. And, as if that were not enough, this wine is worth much more than it costs. This is the best!
It is not a secret that the Muscat of Alexandria variety has been one of the most commonly used grapes in winemaking since ancient times. Three thousand years ago, Phoenician sailors brought it to Málaga from Alexandria, Egypt and from Malaga's Axarquía area, this naturally sweet wine has travelled all the way to the Nobel Prize banquet in 2012. 10 kg of grapes are needed to make 375 ml of this elegant sweet wine that expresses honey, flowers and candied fruits accompanied by a fresh and comforting acidity. A gem that is well worth discovering!
Caligo is a Latin word that means haze or mist, which is the essence of this landscape wine that is made with some of its grapes, Chardonnay, Sauvignon Blanc and Albariño, dried out by noble rot. A naturally sweet wine (the sugar and alcohol content develop naturally) that ages for three years in 400-litre French oak barrels and offers us a dense texture of fruity and floral nuances. It is exquisitely elegant and has fresh acidity that balances the sweetness. This wine has no reason to envy the noble rot wines of Tokaji or Sauternes.
German white wines can be an art form. They are fresh and long–living. They have shown that the root of success also lies in having a perfect balance between acidity and residual sugar. Ossian Verdling Dulce is a semi-sweet Verdejo made in the style of the great German Rieslings with the Pago de Carraovejas quality guarantee, recognised by the "Wine & Spirits" publication as one of the best 100 wineries in the world. If extreme sweetness is not your thing, there is the versatile Ossian Verdling Dulce, a Verdejo with an exquisite semi-sweet flavour and an elegant balance between freshness and sweetness.
This sweet wine is made in Córdoba, Andalusia, under the DO Montilla-Moriles, where the Pedro Ximénez variety is also widely grown. This variety is famous for giving the world some of the most exquisite and long-living sweet wines like this Don Px Convento Selección 1946, the jewel in the Toro Albalá winery's crown. This wine has managed to achieve the much coveted 100 Parker points. In short, a gem of the winemaking world that after years in the barrel has managed to combine a complexity and elegance that is worthy of the most refined palates.
This is just a small sample of the great and diverse sweet wines of Spain, a country that has an extensive and world-renowned winemaking industry. Made through the care and patience of their makers, these wines are worth trying at least once in your life. Who would say no? ;)
Image by Free-Photos from Pixabay