María José López de Heredia is the fourth generation of one of the most well-known winemaking families in the world. She is pure nerve and energy, and a sense of pride in her ancestors runs through her veins just like wine does. She runs R. López de Heredia Viña Tondonia, a leading Riojan winery where wine has been made since the 19th century. María José López de Heredia continues to work here in a way that respects classic winemaking methods to produce wines that are well-known and highly sought-after around the world. Let's find out a bit more about María José López de Heredia.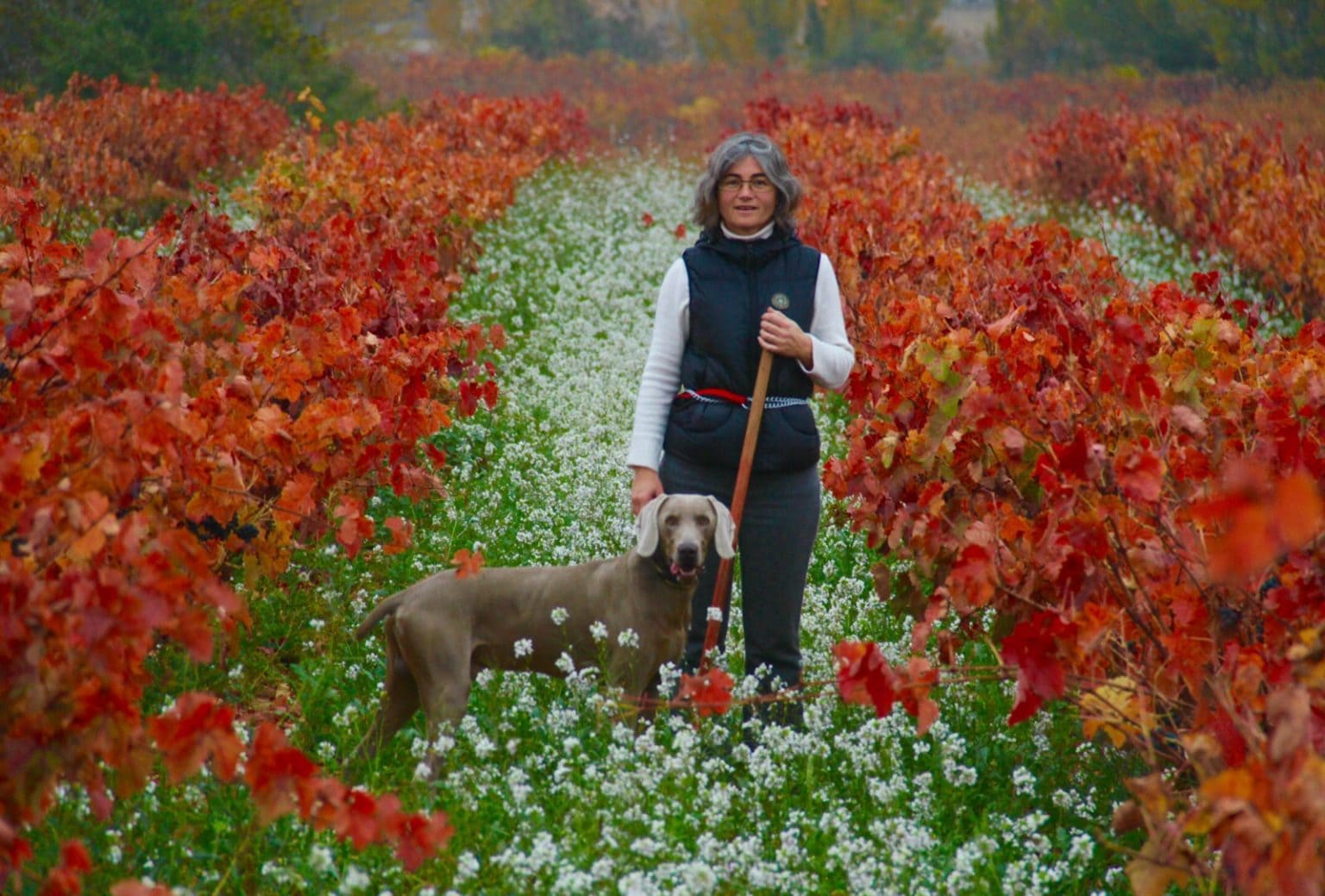 – María José, coming from one of the most deeply rooted and world-renowned winemaking families, what does wine mean to you and what is the first thing you remember about it?
Wine has been my life and, like you said in your introduction, it was my ancestors' life too. It is everything: work, hobby, passion and fun. I have many memories and I have talked about them a lot, but I particularly remember Sundays with our father in Viña Tondonia; in October the sweet smell of the harvested grapes and, at Christmas, putting caps on the bottles in the winery's old wine rack when we were little. The workers gave us 5 pesetas and that made us go back every day. Those are my first memories.
– With training in law and theology, when did you realise that you wanted to dedicate yourself to wine like the rest of your family?
It was really clear to me before I started my studies, I knew that I wanted to spend my life making wine. I liked what I saw around me, in my grandfather, in my father, and others. This appealed to me from a very young age. I don't know how to explain it.
– I know you are proud of your ancestors, but can you tell us which of them you most identify with and what their influence was?
I don't really feel like I closely identify with my great-grandfather, grandfather or my father because they all had such a unique, and I would say inimitable personalities but, obviously, in terms of influence, if I had to choose one, I would say my father because I've spent most time with him. I also learned many things from my grandfather, who fortunately lived a very long life and passed away when I was 16 years old, so I have lots of memories with him. I also learned lots about my great-grandfather from my father and, I suppose, that all turns into admiration, respect and, as a consequence, also influence.
– Great-granddaughter, a word that means a lot to you. Can you tell us why?
Yes, it's very simple: Great-granddaughter encompasses everything: Daughter and Granddaughter. Our founder signed his work as founder and I am his great-granddaughter. Perhaps I should sign as the great-granddaughter of the founder of this House.
– Since you have taken over the management of Viña Tondonia, what have been the greatest challenges you have faced?
Running a business always involves solving problems and overcoming difficulties. Without a doubt, 2020 was one of the most difficult years of my professional life. Not even all the experience of our ancestors could help us in this totally unexpected and unknown situation, which we have to work through on our own, but I must confess that the experience has helped us a lot. Just knowing that they went through even more difficult times and overcame them fills us with courage, strength and hope.
– Ethics and sensitivity, two things that must come hand in hand but that seem to be missing more and more in today's world. But for you, these things always seem to be there. How do you manage to strike this balance in the management of a winery like Viña Tondonia?
For our business, this is something we learnt from the example our predecessors set for us and every day we work to get it right, making sure we have both values as our aim because we consider them important.
– It is said that you take a "no innovation" approach by staying faithful to the use of traditional processes in the production of your wines. Has it been easy for you to preserve the classic style of Viña Tondonia in these times when everything is changing dramatically in favour of modernity?
If I may, I don't think everything changes because of modernity, I think everything changes because of fashion. Saying that I take a no innovation approach is very thoughtless and nothing could be further from the truth. I am not focussed on no innovation and in fact I am not against innovation. But I believe that to carry a project that began a long time ago by someone who was brave and had things very clear in their mind like our great-grandfather, well, it takes perseverance. And I would say I am more focussed on something that has proven to be relevant, like our classic fine wines, rather than just innovative, if innovation means doing something new and, as a consequence, moving away from that style that I value so much. Perhaps I have been focussed on non-innovation as a form of innovation.
– Viña Tondonia is a family winery with almost 150 years of history, and it is a leading winery for the whole world. What's the secret? What does Viña Tondonia do to differentiate itself from others and stay on top for so many years?
We are 144 years old now. We've still got a few years before we're 150. I don't like to take years away, but I also don't like adding years that we haven't actually experienced. Maybe that's the secret. Truth. And our truth is that our history, with its highs and lows, like all stories, has been deep, hard, intense and true.
– Of all the wines made by Viña Tondonia, do you have one that is your very favourite?
Our father taught us the meaning of the expression "the best is the enemy of the good" so I don't like to compare. But he also taught us to value the finesse of the Viña Tondonia estate for its results. That is why we make rosé, white and red Viña Tondonia Reservas and Grandes Reservas. Each one is for a moment but in this House we would never dare to celebrate without this range.
– Beyond wine, what are María José López de Heredia's secret and not so secret passions or hobbies?
There's nothing unusual about me. My great passion and also my great frustration is reading because I would like to spend more time with it. And, although those who know me may not believe it, since everyone thinks I am a very social being, I also deeply need solitude and silence.
– Viña Tondonia is a name that, as well as excellence and quality, implies respect. Do you think this could deter younger generations from coming to try your wines? How do you think we should promote wine culture among the new generations?
Good question. Being young doesn't mean you don't have the capacity to admire and respect. Feeling admiration and respect for something says a lot about those who feel it and not the other way around. Respect and admiration are not automatic, rather they are the result of knowledge and you cannot love what you do not know. I don't believe that young people should be treated as ignorant. They will have less life experience but today, unfortunately, young people are treated the same as everyone else: as consumers and nothing more. For young people to drink, they have to be taught and that knowledge comes from your environment. You have to dedicate time to the new generations. Educating someone about something is a task that never ends. Having visitors come to the winery has been renamed "Wine tourism". For me this is "Eno-education" or "Eno-culture".
– As a sparkling wine lover, have you considered trying to make one or have you thought about the possibility of making wines in another wine region?
I love anything with bubbles, like beer and sparkling water, but no, I haven't. I like to stick to what I know and I prefer to do one thing well. I don't get tired when I like something. I don't understand why people get bored of always doing the same thing when we know that every genius got to where they were because they worked hard at what they did and so they were able to do it well. Perhaps in my next life I would like to be born in Jerez… but at the moment we have great-grandfather's unfinished project, so there is a lot of work to do just here in Rioja.
– We have asked you about your ancestors and the inspiration they passed onto you, but now we would like you to tell us about how you see the future generational change at Viña Tondonia? In what way do you think you have been able to influence them? How would you describe these almost 150 years of the winery's history and how do you envision its near future?
In the fifth generation there are 3 girls who are now 15, 12 and 9 years old. So it is too early to talk about handover, unfortunately, because are we already keen for them to help us. I always told our father that he should have had 10 children, because we have a lot of work. Contrary to what it might seem given the complicated and sad times we are living in and what is happening to the planet and perhaps the universe with climate change and all the worries that brings, I am not pessimistic. Human beings have always found a way to improve themselves and I have not lost hope or confidence that they will. I don't want to influence but I hope for a future where those who come after us really seek happiness and try, in whatever they do, to do it well, professionally and passionately, with joy and generosity and thinking of others. If so, I have no doubt that Viña Tondonia will survive. And if God gives me health for many years and I can help in some way, they will have my experience and support.
– No one can deny that a good wine comes from an excellent raw material, however, you have also said that "Good people make better wines." What do you think a great wine should be like?
It sounds a bit naive and simple to put it like that. You can have a very good person, but if they have bad grapes, they will never make a good wine. A good wine has to have an area, a climate, a land and a grape variety suitable for that land and that climate, and people with a real dream, with experience and desire, with knowledge and study, with hard work and with respect for nature that means you are always learning from it. Also you need to honestly recognise when things have not gone well and be willing to make sacrifices. To bring a good product to market, you have to reject anything that doesn't cut it. And that involves sacrificing money and being selective. Without all this, wine might be wine but it will never be a great wine. And finally, a good wine has to have a good customer; discerning people who know how to appreciate, judge and value it.
– And finally, we would like to know the most recent wine that has impressed you and why?
I am excited by the Manzanilla that I have every day as an aperitif. I am more about the simple, everyday pleasures than something more memorable. However, on reflection, one of the wines that has excited me lately and that I wasn't familiar with before, is an Italian wine called Travaglini Gattinara Riserva 2013. Fine, elegant and fresh, with nerve and personality. Really great.
The post Getting to know María José López de Heredia appeared first on Decantalo Wine Blog.