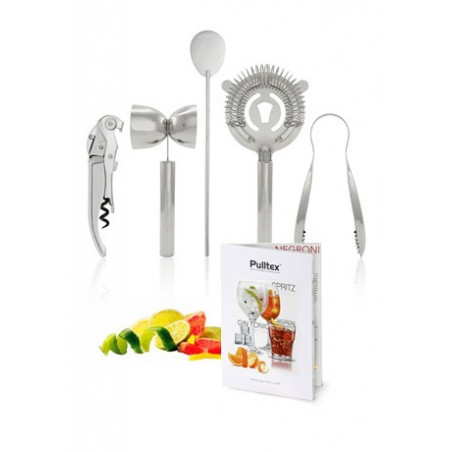 Gin Tonic Spritz Set Pulltex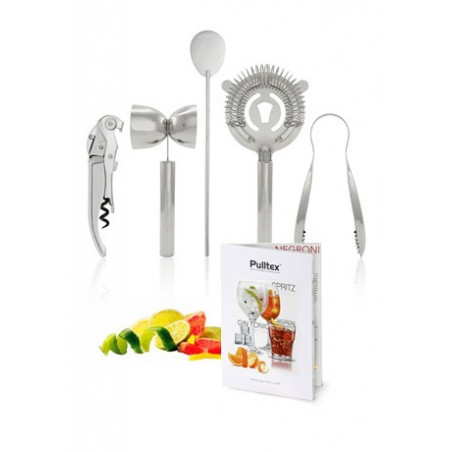 Pulltex Gin Tonic & Spritz Set is a set of cocktail accessories made by Pulltex. 
Pulltex Gin Tonic & Spritz Set contains 5 luxurious pieces of stainless steel, essential when it comes to making the perfect cocktail. A professional measuring device, elegant tweezers, a cocktail strainer, a cocktail spoon and a double-lever Pulltex opener.
This gorgeous Pulltex Gin Tonic & Spritz Set also includes an explanatory book (in Spanish, English, French and German) with some recipes, which will allow you to drink delicious cocktails without leaving your home.
Pulltex is one of the best brands for corkscrews and wine accessories in the world. Over 20 years experience in the making of accessories for professionals and wine lovers support this manufacturer. All Pulltex products feature the perfect combination between design, innovation, uniqueness and functionality.
Real reviews from customers who have purchased this product
Customer rating: Excellent
Right to return (14 calendar days)
Credit card, PayPal, Bank transfer, Klarna, Bizum, Trusly
Otros productos de la categoría Accessories set
The sale of alcoholic beverages to people under 18 is not permitted under any circumstances. We recommend moderate alcohol consumption.