Alceño Monastrell 12
A Monastrell with breadth and persistence
Production area:

Murcia
Tipo de Uva:
85% Monastrell, 15% Syrah
Red wine Crianza. 12 months in French and American oak barrels.
Free shipping to mainland Spain and 50% discount to the Balearic Islands on orders over 150€
Right to return (14 calendar days)
Customer rating: Excellent
Service
Pairing
Grilled turkey, Cold meat, Stews, Roasts
Characteristics Alceño Monastrell 12
Alceño Monastrell 12 meses is a red wine from Jumilla made by Bodegas Alceño, a winery that was founded in 1870 by Roque Martinez, along with two partners. It became the first commercial winery in Jumilla. Currently, it is run by the fourth generation of the family.
The climate in this area is semi-arid, continental and Mediterranean in character. It is characterized by low rainfall throughout the year and average temperatures between 13ºC and 18ºC. This wine is a blend of Monastrell (85%) and Syrah (15%) from the oldest Monastrell grape vineyards planted on calcareous and stony soils, 600 and 800 metres above sea level. Alceño Monastrell 12 months spends four months in new French and American oak barrels (50%) to carry out the process of aging.
Real reviews from customers who have purchased this product
Tasting notes Alceño Monastrell 12
The palate is very expressive and balanced. It is structured and full bodied. Ripe fruits are present.
Maroon with a cherry trim.
On the nose, there are aromas of ripe fruits with spices and oak. Notes of vanilla, cinnamon and pine nuts appear.
Extremely expressive and very well balanced. A full-bodied wine.

Cherry colour.

Ripe fruit an new oak wood very well integrated with aromas of vanilla. Very elegant in the nose.
Prizes Alceño Monastrell 12
Others wines Alceño
Bodegas Alceño has known how to firmly rely on the Monastrell grapes, harvested at their optimum ripeness, looking for less volume and degrees, and more quality. Therefore, in a record time, their wines have managed to enjoy a prestigious position. With this winemaking renovation, apart from being a family tradition winery since 1870 and the first one to market wines in Jumilla, Bodegas Alceño has been able to join the path to modernity, producing balanced and very expressive wines, fruit, with lively tannins and with a great structure.
A fruity Jumilla with sweet tannins

D.O. Jumilla (Murcia)
Regular price
€9.95
Price
€8.96

D.O. Jumilla (Murcia)

Organic
Regular price
€9.25
Price
€7.86
Pictures and situation Alceño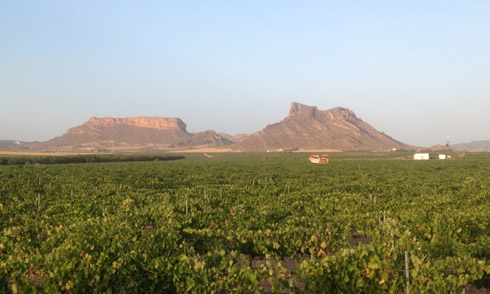 Others wines D.O. Jumilla
To speak of Jumilla wine is to really refer to the Monastrell grape variety. In recent years Jumilla has undergone an impressive transformation. Once used as concentrated and highly alcoholic wines to give strength to weaker wines from other regions, the wines from Jumilla have managed to change this reputation, now enjoying prestige from all over the world. Flavourful wines, with body and concentrated. As well as red wines, the region is also known for their rosés, again produced with the Monastrell variety.
Pictures and situation D.O. Jumilla