Wines which bring you closer to the taste of heavenly islands
Arriving on an island is a unique experience. Unique places where beaches, vegetation and vineyards mix, making its wines unique. If you're starting to plan your holidays and your destination is an archipelago, remember that the Mediterranean coast is full of great wine projects which will make you touch the sky. Although, don't worry if you don't intend to take a plane or a boat, you can always create paradise in your own home by opening one of these wines.
5 wines from 5 islands
We arrived in the Balearic Islands, more specifically Mallorca, and came across the project of the intrepid Francesc Grimalt and Sergi Caballero, two friends who started the company with an initial investment of 4 kilos, a colloquial way of saying 4 million pesetas and who surprise us with each of their wines. This time with a red wine made from the Manto Negro and Syrah varieties, revealing a most original approach and presentation. Irresistibly provocative!
Another earthly paradise is found in Lanzarote, in the Canary Islands. Together with a group of winegrowers, there Rayco Fernandez and Carmelo Peña defend one of the most surprising volcanic landscapes in the world through thick and thin. As a result of this effort, we find Puro Rofe Tilama, a white wine made with the island's quintessential variety, Malvasia, the cultivation of which captivates the eye due to planting the vines in holes 3 meters deep to trap moisture and protect them from the wind and the Saharan sun. Pure volcanic salinity!
On Sicily, the largest island in the Mediterranean, the young winegrower Arianna Occhipinti makes a dream she had as a child come true: to make her own wines with the utmost respect through ecological and biodynamic practices. With her most personal wine, Occhipinti Il Frappato, she tells us her story. A 100% monovarietal Frapatto that teleports us to the landscape where it's found and that, like the winegrower herself, is rebellious, brave and original. Wonderfully unique!
If Greece stands out for something, it's for the number of archipelagos it has. Small islands of great Mediterranean character where the winegrowing culture has existed since ancient times. In one of them, on Santorini, the viticulturist Yannis Valambous takes charge of the family vineyards to recover the traditional varieties. Under the name Vassaltis, inspired by the volcanic rock that covers the entire Greek island, he provides complex white wines with great mineral character. Vassaltis Nassitis, a blend of the native Assyrtiko, Athiri and Aidani varieties, is proof of this. Alive minerality!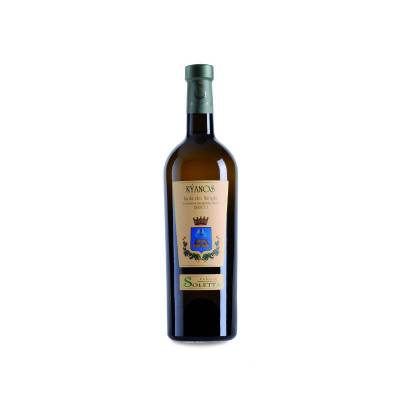 Finally, our last stop on this heavenly journey is on Sardinia. Specifically in Tenute Soletta, the personal project of Umberto Soletto who in the 90's dared to continue the family legacy, making an important recovery of the land and creating a wine cooperative. His Tenute Soletta Kýanos Isola Dei Nuraghi is a barrel-aged white wine made with the Muscat varieties of Italy, Vermentino and Incrocio Manzoni. A hymn to the wine-growing roots of the place, rich and full of nuances. A real Sardinian!
At the end of this virtual wine cruise through the Mediterranean, we hope you've caught the bug for island wines. As you can see, they harbor a whole world to discover. So now you know, if you still don't have an island for this holiday, you always have their wines. And as the saying goes "better late than never".